On the Surveys tab, you'll see all of your surveys, if you've created at least one. If you're using ZEF for the very first time, you'll see that the only options available are to create a new survey or to try out a sample survey, New Survey.

When you look at the survey thumbnails, you'll see
whether the survey is Online or Offline
the name of the survey
the owner of the survey
your thumbnail image for the survey.
When you hover your mouse over the thumbnail, you'll see different shortcut buttons:
Arrow: Clicking the arrow takes you to further to the survey's settings. Here you can review your survey versions and make adjustments to them.
Share: Shows you the default share link to the survey.
Analyze: This feature takes you to the survey's analyzing tool.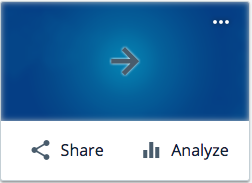 Further setup
When you click the arrow on the thumbnail, you'll get to further adjust the survey. This is the survey management view:

Here's what you can do with the general features:
Take the survey online/offline
Preview the survey
Duplicate and delete the survey via the three dots button
See and add collaborators to the survey via the button settings