To make successful surveys, you don't just need good questions but also a beautiful design to attract your respondents to answer all of the questions. You can modify the design, like colors, images, and fonts of your survey from the Design tab

Note that you can always choose the preview mode of your survey to see the changes you make in the builder, as they would be shown to you rrespondents. You can toggle the view from the builder's top-right corner:

Styles: Fonts, colors and background image
You can import visual elements like fonts (supported by Google), colors and images, using an URL from a website of your choosing, e.g. your company homepage. Simply type in the website address in the get styles from URL field.

The tool will now indicate the number of fonts, colors, and images imported from your website in each section with these green indicators: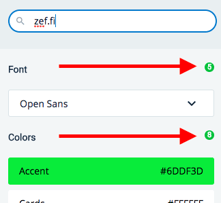 Fonts
Now, you can choose your preferred font for the survey. The fonts from your website are listed first.
Please note fonts that are not supported by Google, are marked with a
-symbol. If you want to use those, you might have to import them manually.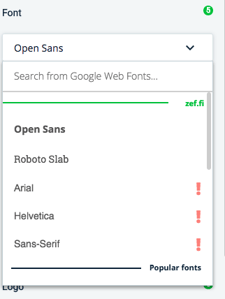 Colors
Next, you can choose colors to be displayed in five different sections: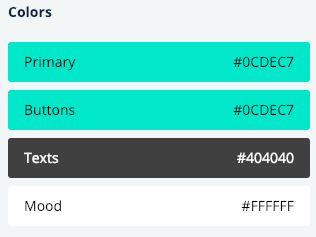 Click on each section to
set colors manually: simply choose the color from the color picker or insert the color code in hex, RGB or HSL

choose from colors picked from your website.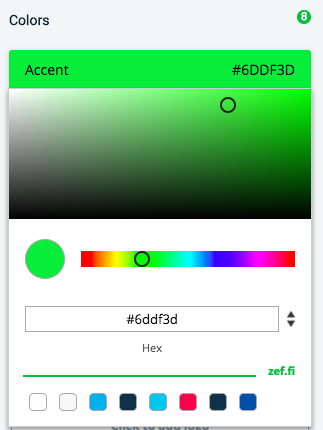 Logo
If you want to use a logo or an image to be shown in the sidebar of your survey, click on Click to add logo -button. A pop-up window appears. Click on the + -icon to upload a logo/image from your device: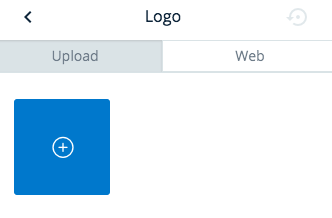 HINT: If you want to cancel the selected logo or background image, you can do it by clicking the -icon.

When you want to use the logos and images that were found on your website, proceed to the Web tab. After you have picked an image, it will appear in the sidebar of your survey:
Background image
You can edit the background of your survey by hovering your mouse over the thumbnail. You can choose the alignment and position of the background image with the buttons on the top-edge and delete the image with the trashcan-icon:
Click on the thumbnail to change the picture. Search freely for a picture in the Search tab: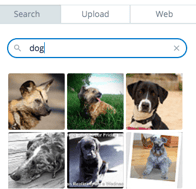 Upload a picture from your device in the Upload tab: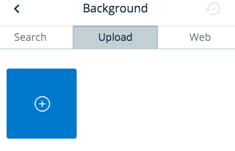 Use one of the images found on your website in the Web tab or insert any URL to search for a new one: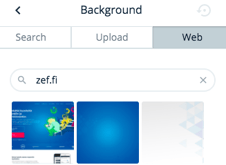 After you return from the window, you can adjust the tint and blur of the chosen background image from the sliders: