You can give access rights easily to your colleague to your survey. Access rights will give him/her rights to either see, or see and edit the chosen survey. You can edit the given access rights later if needed. Please notice that your colleague needs
How to give access rights to your colleague?
1. Go to Surveys tab
2. Click the survey you want to give access rights to
3. Click Settings on the upper right corner
4. Write the name of your colleague into Add people field and click his/her name
5. Choose the correct access rights (Read more below)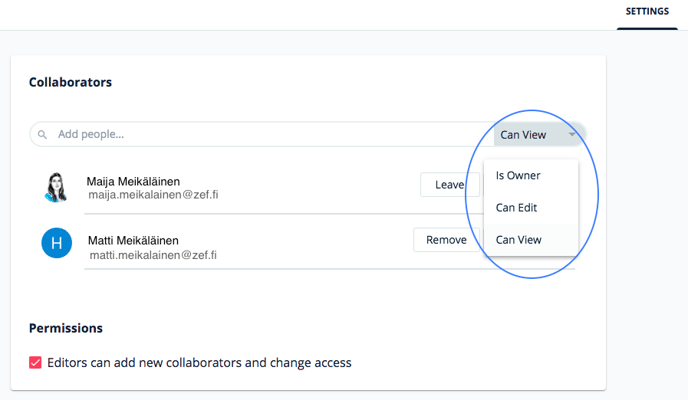 Different access rights
Can View
A colleague with permission to view the survey can preview and share the survey either via a link or emailer, and has an access to the analyze part of the survey. These rights do not allow your colleague to edit your survey.
Can Edit
These access rights allow your colleague to see, edit, send invitations to respondents, and analyze results. This is a good choice if you are planning to create a survey together.
Is Owner
Person with owner rights can delete the surveys. He or she can also edit or delete collaborators' access rights. Please notice that when you give owner rights to other person you will loose your owner rights.