Social Media is a great way to gain visibility for your survey. You can modify the sharing settings on tab Setup under the part Survey social sharing.
Open the sharing settings by clicking the background image.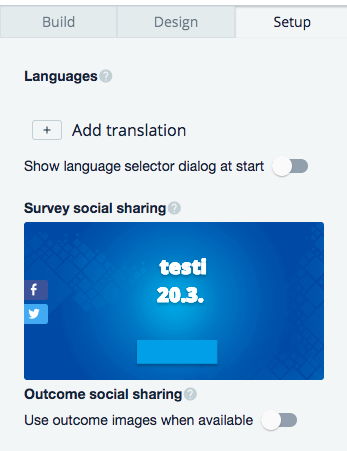 Survey social sharing
Survey social sharing means that your respondents can share the survey itself via selected social media.
Social sharing settings are linked to language versions used in a survey. Via the menu, you can choose which language version's sharing settings you want to modify.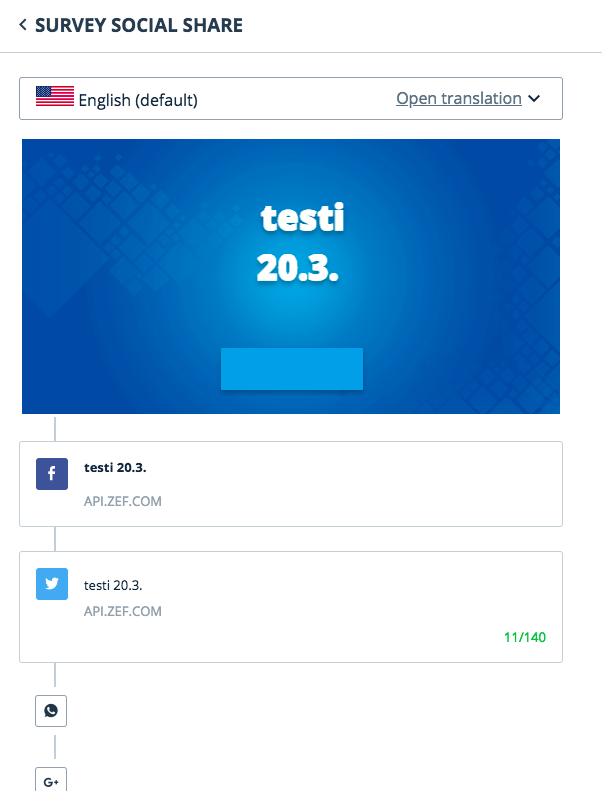 After that by clicking the background image, you can modify the sharing image. For example, by choosing the text on the image, you can modify it on the right side. Under the Title text part, you can choose, which text is shown on the sharing image. You can see different text options by clicking the blue + icon and then choose them by selecting them from the list. You can also modify those texts' by changing the font and color of the text. Texts can be moved to different positions on the image: click and drag the text to wanted place on the image.

Each sharing image has their own call to action button, which text you can change under the heading Button text.
Instead of clicking on the text or a button, you can change the picture of the sharing image. You can search for the image, upload it from your computer or import a picture from URL.
After you have modified the sharing image, you can choose, which social media channels respondents can use to share your survey. Extended boxes mean that the social media channel is available for respondents to share the survey. For example, in the picture below, Facebook and Twitter are selected.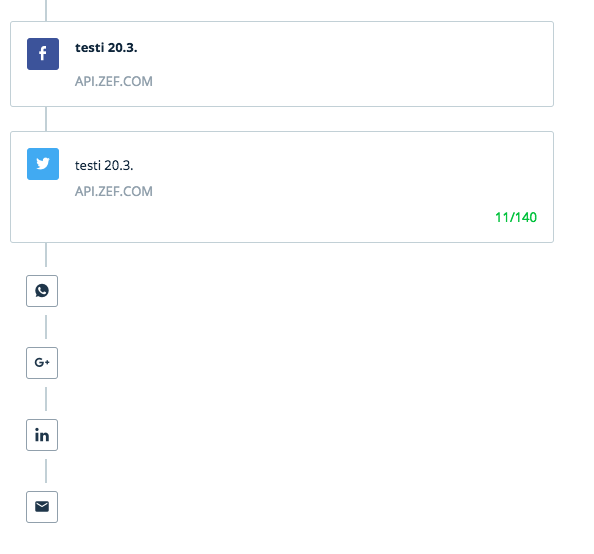 You can click each social media icons to add or deselect the sharing. By clicking the extended box around the social media icon, you can modify the specific settings for each social media channel. Depending on the social media, you can add a title and description for the sharing text. Those texts can include text written by you and ready-made shortcuts, such as Survey name and Outcome title.
After you have modified the sharing settings, you can return back to tab Setup by clicking Survey social share.
Outcome social sharing
Having Outcome social sharing on means your respondents can share their outcomes to others vie selected social media.
If you have created outcomes on your survey, you can also use them as sharing an image by turning the Use outcome images when available on.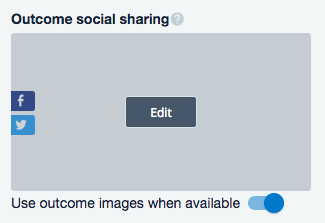 Under the title Outcome social sharing you can modify the outcome sharing in the same way as the survey sharing settings are modified.